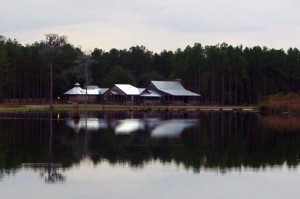 Nestled in hundreds of acres of pines is one of Georgia's best kept secrets, Quail Branch Lodge. As you enter our 12,000 square foot lodge you will feel like you have stepped into a different era.  You are sure to enjoy the peace and tranquility and never forget your experience at Quail Branch Lodge.
Quail Branch Lodge is nestled in south Georgia far away from the downtown traffic and visual clutter, yet very easy to find. We truly are the ideal setting for the perfect South Georgia wedding.  Secluded, romantic and unique beauty surrounds every corner…an unforgettable setting for an unforgettable wedding.
Quail Branch Lodge offers the ultimate quail hunting experience. Professional guides and expertly trained dogs will flush covey after covey for your hunting enjoyment.  Please explore our website to find all that Quail Branch Lodge has to offer.